Chalk pastels and kids go together like lightning bugs and a warm summer evening. Trust me, they are a perfectly glorious pairing. I had no idea what we were missing until a few weeks ago when I grabbed a chalk pastel tutorial for the children and me to try.
This post may contain affiliate links. Please read my disclosure statement for more information.
Chalk Pastels for Kids
Our son is a HUGE shark lover. He took an online shark course last year and adored it. He even actively follows a shark named Lydia as she travels all over the Atlantic Ocean. Imagine his excitement when we discovered the Shark Art Tutorials by You Are An Artist. He was completely on board with trying out the pastel chalks if he was going to get to draw sharks!
Our daughter loves art. She adores painting, drawing, coloring, and modeling with clay. She is our resident artist and she was just as excited as her brother when our box of new pastel chalks arrived. The children couldn't wait to dive into the lovely new world of pastel chalk.
What You'll Need to Get Started with Chalk Art
You'll need a few things to get started with chalk pastels….
Chalk Pastels for Kids are EASY
The kids are loving this new art medium. We've learned some interesting facts about sharks and pastels along the way. Aren't rabbit holes of learning delightful? Remember, pastels are messy…which is probably why the kids enjoy them so much. They are also extremely easy to use. Now that the kids have dipped their toes into this fun experience they have requested spring time tutorials, spring fever anyone, and more animal tutorials?
*I also found a How to Train Your Dragon Art Tutorial that our son wants to try too!
My table may never recover!
You Are AN Artist Clubhouse Membership
Did you know that ALL Clubhouse members enjoy access to over 500 video art lessons?
All it takes is a starter set of chalk pastels, construction paper and Nana's video art lessons! No expensive, intimidating list of art supplies. As a clubhouse member you will also have access to what you need and you don't even have to be the art teacher!
Clubhouse members get a bank of art lessons for all ages, a wonderful community, plus new art lessons from Nana and themed art events throughout the year!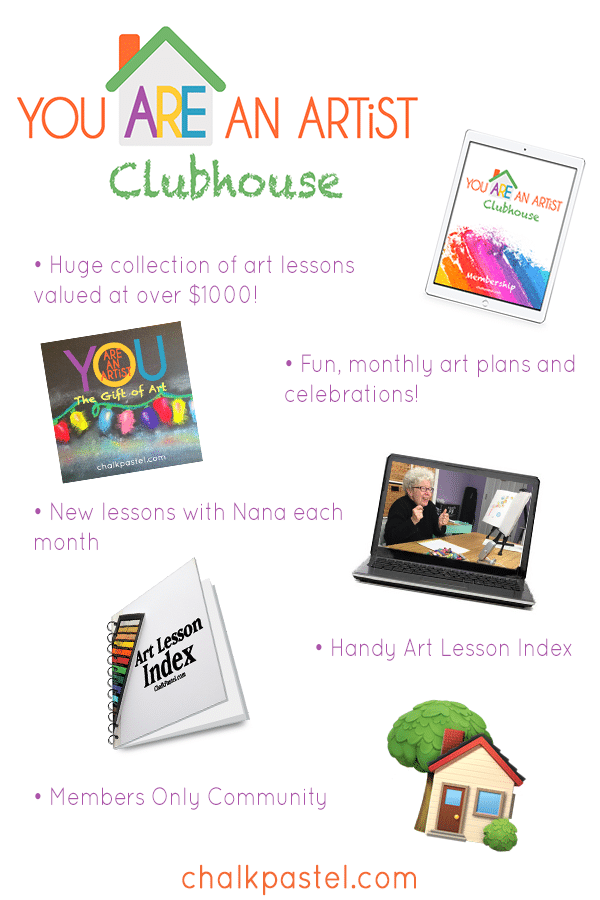 You may also enjoy these other chalk pastel related posts: