Folks, this has been the longest winter I can remember in years! Every time I think spring has arrived, winter rears it's blistery head again!
Look, we look love winter as much as the next family. The fluffy flakes mean snowmen and warm firesides, hot chocolate, and ice skating. But eventually, you begin to dream of warm sunny days.
There have been days this "Spring" where we see fog, rain, sleet, hail, snow, sunshine, and a roll of thunder before I've even had my second cup of coffee!
Welcome to East Tennessee.
Today, I'm sharing a new art course we recently enjoyed. Just in case you're needing a spring boost too!

*Disclosure:  This post may contain affiliate links. Please read my disclosure statement for more information. I received access to the Spring Chalk Pastel Video Art Course at no cost in exchange for a review.  A positive review was not required. As always, all thoughts and opinions are my own. I only choose to share resources that I would use with my own family and those that I believe other families will enjoy. 
Exploring Spring with Chalk Pastels
When I heard the Chalk Pastels had a new Spring Art Course I had to check it out. We have enjoyed many other Chalk Pastels courses in the past. Some of our favorites have been the Sharks, Medieval Art, Seashore, and Master Artist Techniques.
Chalk Pastels are perfect for any age because you don't need any artistic ability to use them.
Cold dreary days can make for especially crabby kiddos. After a super difficult morning, we turned to some art therapy. My kids ADORED getting a taste of spring with the Spring Art Course!
Art is the balm for my kid's souls. Especially my 5-year-old little pixie.
Art can take cranky, moody children and turn them into calm creative bursts of sunshine.
And when my kids are creative and calm…so am I.
It's a win/win.
Get Ready for Spring with Chalk Pastel Spring Art Lessons for Kids
Imagine a chalk pastel rainbow among the pointed peaks of green mountains….or a cozy nest full of eggs…
What's included in the Spring Art Lesson Tutorials:
Shamrock
Rainbow
Swing
Jonquil in a Glass Jar
Spring Tree
Spring Tree Reflection
Rain
Quilt
Bird's Nest
Chalk Pastel Video Art Lessons for Kids
All Chalk Pastel Video Art Lessons include:
Step-by-step instructions from "Nana"
Techniques encourage both new artists and challenge more advanced ones
Independent learning for older students
FAQs
Glossary of art techniques
Option to join You ARE an Artist Facebook group for sharing artwork and asking questions.
The videos can also be viewed on any device AND you'll receive lifetime access to them!
Flowering Spring trees with chalk pastels in the picture above….although they kinda remind me of Truffula Trees from the Lorax, ha!
My kids love chalk pastels because they are so easy to use…plus fun, colorful, and are perfect for ALL ages!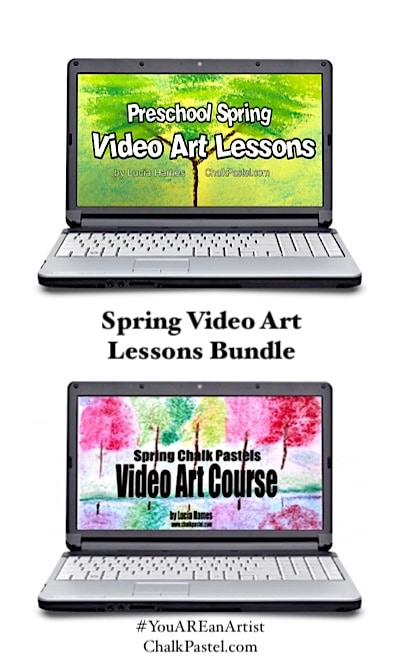 Here are more of our Favorite courses using Chalk Pastels:
Love Art?
Be sure to check out these related posts!