Christmas chalk pastel art lessons have helped me make a chaotic holiday weekend just a little bit more delightful for my children.
On those days, or weeks when life happens and throws you for a loop, art can be a beautiful way to both process and reconnect as a family.
Why?
Because art helps us to calm down and focus.
Throw in a bit of hot cocoa and some gingerbread and suddenly a stressful day becomes something magical.
*Years later, we still like to take a cold, grey, and rainy day and brighten it by adding our own warmth, and color with hot cocoa, a sweet treat, and of course chalk pastels!
Oh, and Christmas carols playing in the background!*
*Disclosure:  This post may contain affiliate links. Please read my disclosure statement for more information. I received access to the Christmas Extravaganza Video Art Lessons at no cost in exchange for a review.  A positive review was not required. As always, all thoughts and opinions are my own. I only choose to share resources that I would use with my own family and those that I believe other families will enjoy. 
Festive Christmas Chalk Pastel Art Lessons For Kids
When we suddenly found ourselves in a family emergency over the weekend, I turned to chalk pastels to help my kids deal with the challenges we faced.
Folks, art is a wonderful thing and can also help us heal emotionally. I don't know what I would have done without this amazing resource this week! It seriously saved my bacon and helped bring cheer into our home!
You Are An Artist Art Lessons!
Chalk pastels are easy to use even for the less than artistic persons. You really don't need any artistic ability to enjoy this fun art medium!
My children ADORE "Nana" and her chalk pastel courses.
She always reminds them that they "Are An Artist!"
All Chalk Pastel Video Art Lessons include:
Step-by-step instructions
Techniques encourage both new artists and challenge more advanced ones
Independent learning for older students
FAQs
Glossary of art techniques
Option to join You ARE an Artist Facebook group for sharing artwork and asking questions.
The videos can also be viewed on any device AND you'll receive lifetime access to them!
Christmas Chalk Pastel Art Lessons
Christmas Video Art Lessons include the following nine art course tutorials:
A Christmas Star
Away in a Manger
Winter Fun
Gingerbread Man and Holly Leaf
Christmas Angel
What's Under Your Christmas Tree?
Christmas Ornaments
A Christmas Tree
Christmas Lights
Festive Nutcracker Christmas Chalk Pastel Art Lessons
Nutcracker Video Art Lessons include the following four art course tutorials:
Nutcracker
Clara and the Christmas Tree
Sugar Plum Fairy
Chinese Tea Dance
Mouse King
You ARE an Artist Clubhouse Membership
Or you can sign up for the AWESOME You ARE AN Artist Clubhouse Membership. It provides over 600+ chalk pastel lessons for all ages plus new art lessons from Nana and themed art events throughout the year! In addition to the Christmas art lesson you'll also have access to these other Christmas and holiday lessons:
The Grinch
Charlie Brown Christmas
A Map to Bethlehem
Rembrandt Dream of Joseph lesson
We Three Kings
The Messiah Lessons – Angels Announce Messiah
Nutcracker
Clara and the Christmas Tree
Sugar Plum Fairy
Chinese Tea Dance
Mouse King
Arctic Express
Hot Chocolate
Mittens and a Mug
Frost
Icicles
Frozen Lake
Winter Forest Scene with Deer
Bird in Snow
Plus so much more!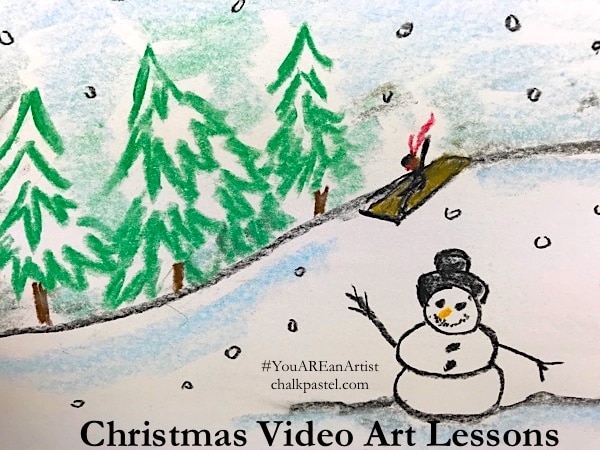 Countdown to Christmas with awesome STEAM experiments from STEAM KIDS Christmas!
If you love art, be sure to check out these fun courses:
Tell me, how do you deal with family emergencies and help your kiddos process difficult life events?
You may also enjoy these other Holiday Posts: