Are your kids' big fans of nature? Did you know that chalk pastel art is a perfect complement to your next forest nature study?
*Disclosure:  This post may contain affiliate links. Please read my disclosure statement for more information. I received access to the Chalk Pastels Forest Nature Video Art Lessons at no cost in exchange for a review.  A positive review was not required. As always, all thoughts and opinions are my own. I only choose to share resources that I would use with my own family and those that I believe other families will enjoy. 
Chalk Pastel Art Perfect for Forest Nature Study
I want to nurture my children's passions and interests. When they became obsessed with nature I made sure we did the following:
nature hikes and nature exploration
read loads of nature books
watch nature documentaries
keep a nature table
play nature games
If you need some nature-themed ideas then check out my post:
Then I discovered Chalk Pastels Forest Nature Video Art Lessons! These were a wonderful compliment to any nature study.
Forest Nature Chalk Pastels Perfect for Kids
These Forest Nature Video Art Lessons are perfect for kids because they are EASY and SIMPLE to do! All you need to get started are:
That's it! No expensive art supplies are needed.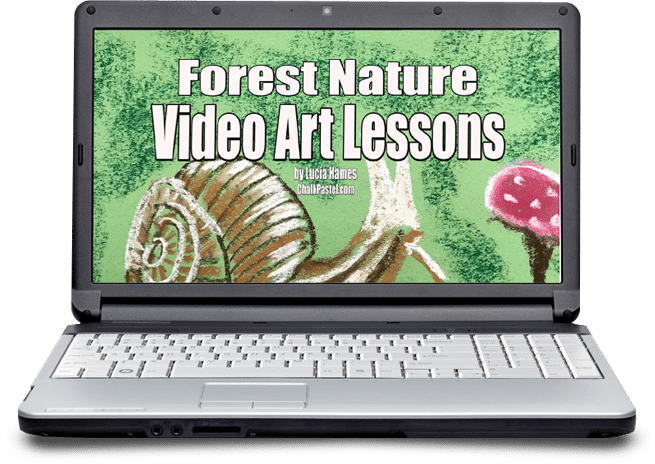 Plus, Nana walks them through the artwork step-by-step!
You're probably wondering who "Nana" is? "Nana" is the chalk pastel teacher and master artists in the nature videos! My kiddos adore her. She is such a lovely lady and always reminds the children that they "ARE an Artist!"
How do the Forest Nature Video Art Lessons Work?
Each lesson includes an overhead view of Nana giving you instructions while creating her artwork.
You can view each lesson on ANY digital device.
Once purchased, you have lifetime access to the course.
Forest Nature Study Helps Grow a Love of Art and Nature
The kids had such fun making the Red-Eyed Tree Frogs with the Chalk Pastel Forest Nature Video Art Lessons! Afterward, we read up on Amphibians in our Animalium book. We even did a Frog Unit Study!
We watched a documentary on snails and caught some at a nearby stream. My son even caught a baby rat snake in the backyard and brought it up to the house for observation before releasing it back into the woods. Later he found the mama rat snakes skin!
Gah, boys, and snakes!
What is included in the Forest Nature Video Art Lessons?
Your children will learn to create:
snail
forest path
red-eyed tree frog
eagle's nest with eagle family
rat snake
deer in the forest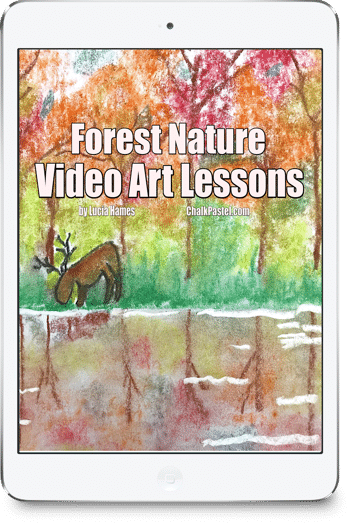 Step-by-step instructions
Techniques encourage both new artists and challenge more advanced ones
Independent learning for older students
FAQs and a Glossary of art techniques
Option to join You ARE an Artist Facebook group for sharing your kiddo's artwork and asking questions.
Did you know that Chalk Pastels now has a new Artist Clubhouse?
read about how we are incorporating

You can find out more or sign up HERE!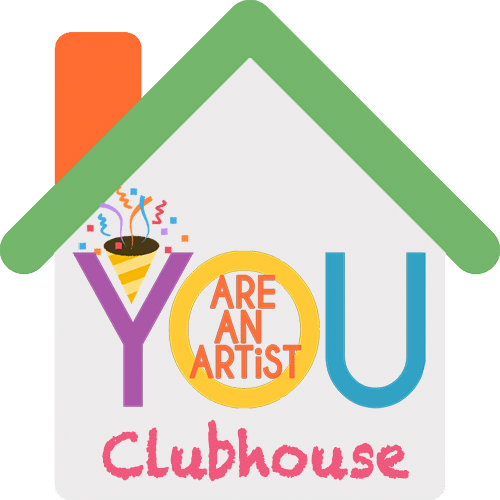 Looking for more nature study ideas, then check out these posts:
You may also enjoy these other chalk pastel posts: