We just had an amazing pond unit study with a water testing kit, pond and water-related books, and a few supplies we already had on hand.

I know that not everyone will have access to a pond, but any body of water can offer fantastic learning opportunities! Be it a river, lake, stream, marsh, ocean, or pond, I invite you to go out and explore. There is much we can all learn about the habitats, animal life, and the science of water.
Planning A Hands-On Pond Unit Study
*Disclosure: This post may contain affiliate links. Please read my disclosure statement for more information. I received a Water Testing Project Kit For Students & Science Fairs from WaterTestingKits.com at no cost in exchange for a review and was compensated for my time.  A positive review was not required. As always, all thoughts and opinions are my own. I only choose to share resources that I would use with my own family and those that I believe other families will enjoy. 
Planning a hands-on pond unit study was easy! Not only did we want to learn about pond life, but also the pond water itself. Testing water quality is a great way to engage kids in collecting data and understanding why water quality matters. We started with WaterTestingKits.com and their 4 pack Water Testing Kit for Students, Classrooms, and Science Fairs. This kit allows you to take 4 different water samples. This worked perfectly for us because we have two ponds, plus we wanted to compare the pond water to our tap water at home.
This 4 pack water testing Kit is reasonably priced at $24.99 and includes tests for:
Chlorine
Copper
Nitrites
Nitrates
Alkalinity
pH (potential Hydrogen)
Hardness
Iron
We also added an electronic Total Dissolved Solids (TDS) meter, our handy field microscope, magnifying glass, nets, and jars for collecting samples.
Another fun activity we did was build our own water cycle bracelet!
Books We Used
A unit study just isn't complete without some wonderful books to go along with it. Our kids have a fascination with water. This summer they were obsessed with the ocean and read every book they could find about sea creatures. They also managed some pretty awesome natural learning opportunities while on our beach vacation.
Since the summer they have turned their curiosities to our ponds and the life therein. We found some fantastic books on pond life and even the life that is happening in a single drop of pond water!
Over and Under the Pond by Kate Messner
A Drop Around the World by Barbara McKinney
One Well: The Story of Water on Earth by Rochelle Strauss
A World In A Drop of Water: Exploring With A Microscope by Alvin Silverstein
Beyond the Pond by Joseph Kuefler
Would You Rather Be A Pollywog: All About Pond Life by Bonnie Worth
We even played a few animal/habitat games to go along with our pond study!
Collecting Pond Water
Our first step in our pond study was collecting pond water. There are two ponds in our cow fields and we wanted to compare the two along with our tap water. The kids used mason jars to collect our water, but you could use any clean, clear container.
We transferred a small amount of our pond water into a separate vial that came in our testing kit. This ensured that the water in the vial could be tested while the water in the jar could be observed with our magnifying glass and microscope.
At Home pH Water Testing Kit
A pH (potential Hydrogen) of 6.5 to 8.2 is optimal for most life in the water. However, if you have an algae bloom this can drastically remove CO2 from the water and cause pH levels to increase.
Some aquatic animals are very sensitive to fluctuations in pH.
We discovered that our tap water had a pH of 9 while our ponds both had a pH of 6.5.
Testing Our Pond Water for Nitrogen
Nitrogen is essential for plant growth, but an excess of nitrogen can cause algae blooms which in turn can increase pH levels. This is a problem, especially near farmland and golf courses.
We were happy to discover that we had low nitrogen levels in our pond water and out tap water.
Testing For Iron
River, ponds, and lakes contain natural amounts of iron. But additional iron can be released into the water by industrial waste or landfills.
When rain or snow travels through the ground where there are iron deposits, the iron can mix with the water and both can enter the water supply.
None of our water samples indicated iron levels above normal.
Checking Total Dissolved Solids
Total Dissolved Solids are the total weight of all solids (minerals, salts, or metals) that are dissolved in a given volume of water. The higher the TDS level in the water, the greater the probability of harmful contaminants. The EPA's maximum contaminant levels for drinking water is 500 PPM (parts per million)
Our son really enjoyed this test meter and has even tested a few mud puddles and ditch water since our pond unity study! He even added it to his backpack so that he can test the water wherever he goes.
Here were our results for our ponds and tap water.
Pond #1 had more Total Dissolved Solids at 354 PPM
Pond #2 came in second with 252 PPM
Our Tap Water came in last with only 90 PPM
Looking for Pond Life
One of the most exciting parts of a pond study is observation and learning about the creatures that live in pond ecosystems! And it's not just the animals you can see with your eyes either! Our ponds were filled with insects, larvae, worms, crustaceans, and amphibians.
There is a fascinating food chain happening right before our eyes!

With our magnifying glass and microscope, we discovered all sorts of teeny tiny wiggly and fast-moving creatures!
These were added to our nature journals.
Trust me when I say, "DO NOT DRINK THE POND WATER!"
Yes, I actually had to remind my children of this fact. But once they saw up close what was living in the water….I didn't need to remind them again.
The frogs were by far the children's favorites! There were tadpoles, frogs, and each stage of frog metamorphosis in between! Observing our ponds led us to learn about frog and insect life cycles!
Did you know that frogs are a great indicator of a healthy ecosystem? They are very sensitive to pollutants and environmental changes.
Plus larger animals such as coyotes, rabbits, foxes, opossums, and skunks come to our ponds to drink! Their tracks were all around!
Check out these great pond resources!


Pond Life and Art
Chalk Pastels has a Pond Nature Video Art Lesson course available! Your kiddos can create:
the pond
turtle
bullfrog
dragonfly
water strider
beaver
rainbow trout
goose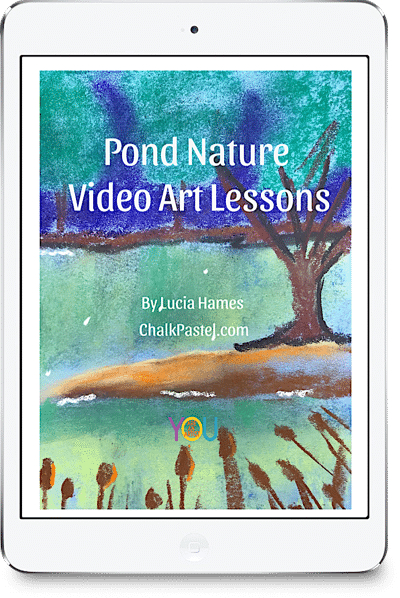 So what will we be studying next?
Our son has his eyes on the local river that provides our drinking water. He's curious about its health and the health of some of its streams and creeks.
This was a messy and fantastic way for the children to learn all about the importance of water quality, and the aquatic life in our ponds.
Want More Water Testing Kits?
WaterTestingKits.com offers multiple products for your water testing needs…
They are also offering 10% OFF ANYTHING on their website with code BACKTOSCHOOL17
This offer expires 10/1/17
Be sure to enter below for your chance to win an at home water testing kit of your own!
Prizes awarded to US addresses only.
You may also enjoy: