Learning to read isn't one size fits all…reading is a unique adventure for each child! It's a special journey. One in which you choose what sort of voyages you become a part of.
But, before you are ready to sail the Pequod in search of the elusive white whale you must first learn the alphabet. The sounds of each letter must be mastered before you can go traipsing across the Misty Mountains, while decoding and comprehension are vital before seeking out that magical wardrobe into Narnia.
If your child wants to learn to read, like mine or is a struggling reader, then let me tell you about a multi-sensory approach to reading we've discovered!
*Disclosure:  This post may contain affiliate links. Please read my disclosure statement for more information. I received All About Reading: Pre-Reading Deluxe Package at no cost in exchange for a review.  A positive review was not required. As always, all thoughts and opinions are my own. I only choose to share resources that I would use with my own family and those that I believe other families will enjoy and benefit from. 
A Multi-Sensory Approach to Reading
My daughter loves books. She is always pretending to read to her dolls and stuffed animals. She is a firecracker that very much wants to read her own book without the help of her older brother or myself.
We've incorporated several online reading apps and games along with loads of read alouds…but she wanted more.
I knew she would need something that would be both fun, and hands-on. Plus it needed to give her a firm foundation without any gaps in her learning.
All About Reading Pre-reading provides all that and more! This is a multi-sensory approach that encompasses sight, sound, and touch. This means that our daughter finds each lesson interesting, exciting, and engaging. She loves the games and enjoys the rhyming books. Although, the Ziggy the Zebra puppet may be her absolute favorite! Ziggy partakes in all of her lessons, now!
Why I'm Loving All About Reading
All About Reading was created by a fellow mom, Marie Rippell. Her son was just 9 years old when she learned that he was profoundly dyslexic. She and her husband were told that he would never learn to read or spell. They felt differently, and thus All About Reading and All About Spelling were born.
I love that this Orton-Gillingham approach is open-and-go. It provides everything I need and makes it easy to teach my daughter in a way that thrills her. Plus, it doesn't require long periods of study! My daughter is happy with quick 5-10 minute lessons.
Here's what you get in the All About Reading Pre-reading package…
Student Packet (My Book of Letters and Sounds Activity Book, Picture Cards, Letter Sound Cards, Capitol Letter Alphabet Chart, Lowercase Letter Alphabet Chart, and Progress Chart)
Ziggy the Zebra Puppet
The Zigzag Zebra: a rhyming alphabet hardcover book
Lizard Lou: a collection of old and new rhymes hardcover book
Activity Box to hold your child's learning cards
Animal Stickers
"Letter Sounds A to Z" app
All About Reading Tote Bag to keep all of your materials organized
All About Reading recognizes that reading aloud is an important component in learning to read.
Read alouds are very important to me. Snuggling with my kiddos with a good book is one of my favorite activities. I love that All About Reading Pre-reading specifies to set aside time for read alouds!
It's making a difference, folks!
My daughter is learning to read and she couldn't be more pleased!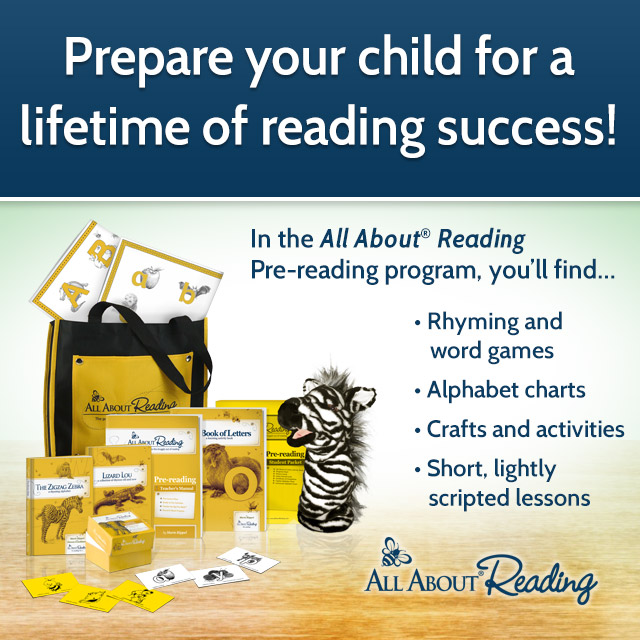 Are You Wondering if All About Reading is a Good Fit for your Family?
All About Reading is perfect for those wanting a multi-sensory approach to learning to read. This is perfect for kinesthetic learners and auditory learners alike.
All About Reading offers placement tests for each level they offer, so you'll be sure to choose the best package for your child.
Do you have a little one just starting their reading journey or a struggling reader that could use a different approach?

Did you know that All About Reading offers lifetime support and a one-year money back guarantee? You have a full year to try out All About Reading or All About Spelling. If you find it doesn't meet your needs, simply return your materials for a full refund!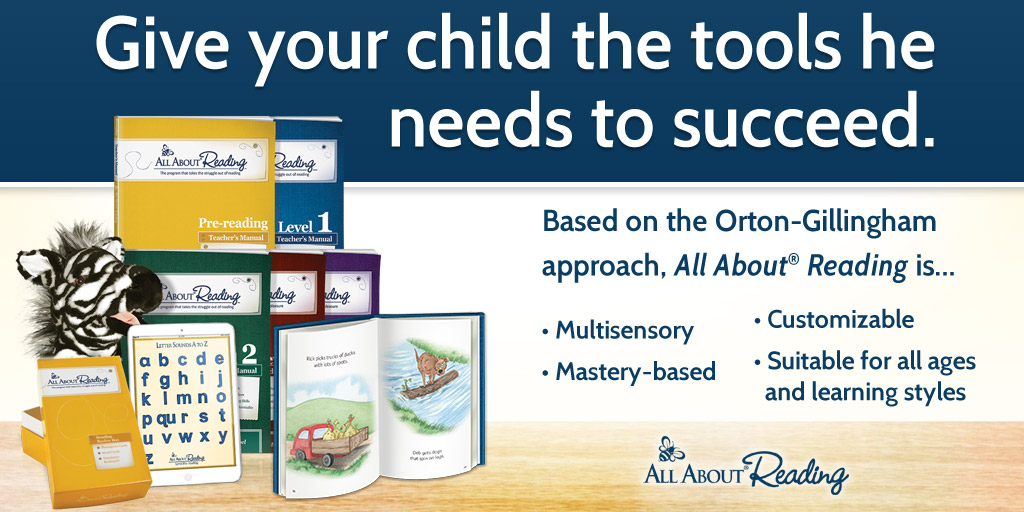 You may also enjoy: