My son struggled with spelling for years. That is until we discovered the best spelling curriculum for hands-on learners!
I have been seriously amazed at how quickly he has picked up the rules of spelling and how they have stuck with him in this program.

*Disclosure:  This post may contain affiliate links. Please read my disclosure statement for more information. I received All About Spelling Level 2 Materials at no cost in exchange for a review.  A positive review was not required. As always, all thoughts and opinions are my own. I only choose to share resources that I would use with my own family and those that I believe other families will enjoy and benefit from. 
The Best Spelling Curriculum for Hands-On Learners
Have you heard the saying that as kids read more and more books their spelling naturally improves?
Well, my son is not one of them. This kid reads a ton of books. Like, picks out 60 new books from the library every week ton of books. Though he reads at a much higher-grade level, his spelling was not improving, and he struggled with four-letter words.
His preferred method of spelling, before this spelling curriculum, was with minimal vowels… Anyone else's kid do that?
He needed to know and understand the rules of spelling in a hands-on way. Also, what role vowels play in the formation of words.
So, what program are we finally seeing success with?
Hands-On Spelling Curriculum
All About Spelling offers a multi-sensory Orton-Gillingham approach which includes visual, auditory, and tactile/hands-on methods with each lesson.
In a typical lesson, my son will review previous lessons, and then learn a new phonogram or spelling rule. We'll use the letter tiles to show this rule in action. Then we'll go over the word cards that correspond with the lesson. If he's understanding them, then we'll move on to writing out the words in phrases and sentences. If not, we'll review with the tiles a bit more. All in all, the lessons usually range from 10-20 minutes.
Magnetic Letter Tiles for Hands-on Learners
The letter tiles are a huge part of the program and have really made a big difference in his understanding of spelling rules. As he moves the tiles around on the magnetic whiteboard he is seeing, touching, and understanding spelling in ways that rote memorization never did. He ENJOYS manipulating the letter tiles around the board and creating new words. Thus, he now LOVES Spelling!
These letter tiles are perfect for dyslexic kids too!
My fella is now mastering nine-letter words, folks! He is so pleased to have a whole stack of green word cards that he can spell by heart! His confidence is soaring high and I couldn't be prouder of his accomplishments.
Why Do We Love All About Spelling
Here's what I love about this program based on my experience with it:
Open and Go! I love that there is zero prep time. I can simply grab the teacher's manual, our magnetic whiteboard, and cards and we are ready to go. Great for those of us parents that don't know HOW to teach Spelling.
Each lesson is laid out and easy to understand.
Scripted – I can follow the script if I choose, or not at all… though the script helps me greatly.
Don't think you need to do 1 lesson per day! We go at my son's pace. This can mean that we fly through several lessons very quickly. Or we may stay on a single lesson for several weeks if need be.
The multi-sensory approach really works for my kiddo. The tiles are perfect for hands-on learning.
It teaches WHY we spell words in certain ways. The RULES of Spelling are explained and reinforced. Each lesson and Level builds on previous Lessons and Levels.
No Weekly Spelling Lists!
All About Spelling is Mastery Based with a cyclical review.
It Works! This program is amazing and we are seeing results!
All About Spelling is meeting the needs of my son with a multi-sensory, hands-on method that keeps him interested and excited. He's building a strong foundation in Spelling that gives him oodles confidence.
All About Spelling
If you're interested in learning more about this multi-sensory approach to spelling, pop over to All About Spelling and read more!
Did you know that All About Spelling offers lifetime support and a one-year money back guarantee? You have a full year to try out All About Reading or All About Spelling. If you find it doesn't meet your child's needs, simply return your materials for a full refund!
Tell me, do you use a spelling program in your homeschool?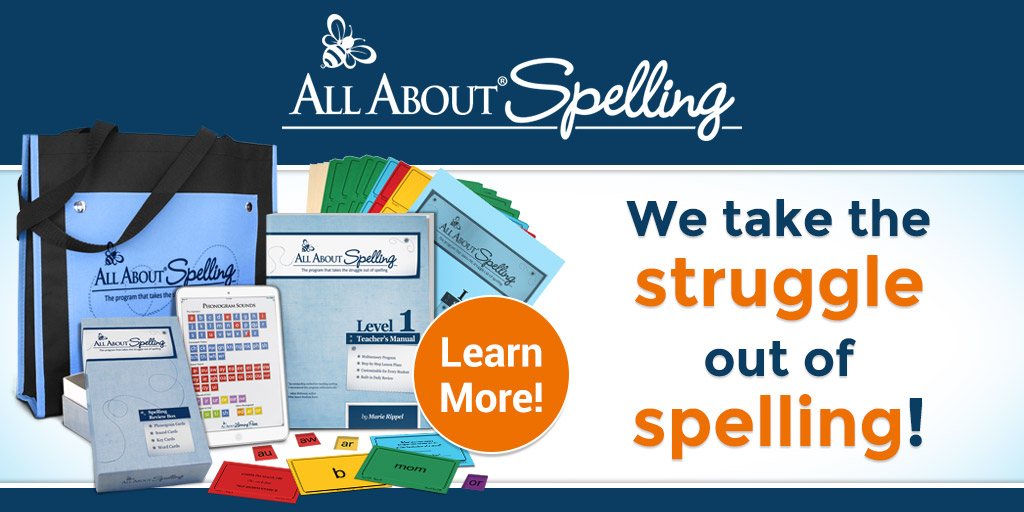 You May Also Enjoy…