Spelling.
It has come up recently with my son. This kid has big plans and it involves spelling.
You see, he wants to write a book…an EPIC book with heroes, and battles, and courage, and dragons…
Yes, he's letting me in on his grand plans and I'm honored. 
Especially when he asked me for help.
Our son is a great reader, but we've never used a formal spelling curriculum before. Which made me kinda nervous about choosing one now.
All About Spelling for Older Kids
We follow the Brave Writer lifestyle of books, copy work, dictation, and poetry tea time. We've also started using Michael Clay Thompson's Grammar Island for some extra grammar pick me ups. All of these are working wonderfully together and for our son.
But spelling.
I wasn't sure where to begin. So, I did some research into programs with the following ideas in mind…
I wanted something that offered quick lessons as my son gets easily bored.
Hands-on activities are preferable to boring worksheets. My son learns best when he can use his hands.
Since my son is older, I wanted something that could be customized for a kid that already knows how to spell basic words but still needs a strong foundation for future spelling endeavors.
My son is not interested in a weekly spelling list. So something that doesn't require spelling lists would be a plus.
From my research, I decided All About Spelling would be the perfect fit for my son.
*Disclosure:  This post may contain affiliate links. Please read my disclosure statement for more information. I received All About Spelling Level 1 Complete Package and Deluxe Interactive Kit at no cost in exchange for a review.  A positive review was not required. As always, all thoughts and opinions are my own. I only choose to share resources that I would use with my own family and those that I believe other families will enjoy and benefit from. 
All About Spelling
All About Spelling was designed with Dyslexic children in mind and is a mastery-based program. It's also based on the Orton-Gillingham approach! Children learn…
encoding skills
reliable spelling rules
phonograms
consonant teams
segmenting
consonant blends
initial blends
final blends
plurals
All About Spelling: A Multi-Sensory Approach to Spelling
All About Spelling offers a multi-sensory approach to spelling.
The letter tiles are a huge part of this program which makes it perfect for dyslexic children and kids who are more tactile or kinesthetic in their learning. Visual learners will benefit from the red vowel and blue consonant tiles too!
My son has mastered a concept when he can teach it back to me using the letter tiles!
Plus, there are no weekly spelling lists!
Also, I've noticed our 4-year-old daughter has taken to listening in on her big brother's lessons and likes to manipulate the letter tiles. It turns out, he's not the only one learning!

Take the Struggle out of Spelling
I love that I can customize the program to meet my son's needs. He may know how to spell some of the words, but now he is learning the underlying basic spelling concepts. He's grasping those concepts quickly and thus I am "fast-tracking" him through much of the program.
We skim through the parts my son knows and slow down for the parts he needs to learn. He really likes that!
All About Spelling offers…
Quick 15-20 minute lessons
This program is open and go but also adaptable to the needs of individual children.
The letter tiles and tokens offer hands-on activities that help solidify spelling concepts
I am able to skim over content that our son already knows while adding more focus to content we have not covered.
All About Spelling is mastery based.
There are no spelling lists!

All About Spelling for Older Kids
All About Spelling is meeting the needs of our older kid with a multi-sensory, hands-on method that keeps him interested and excited. He's building a strong foundation that will help him in his future writing endeavors.
Tell me, are you tackling spelling this year?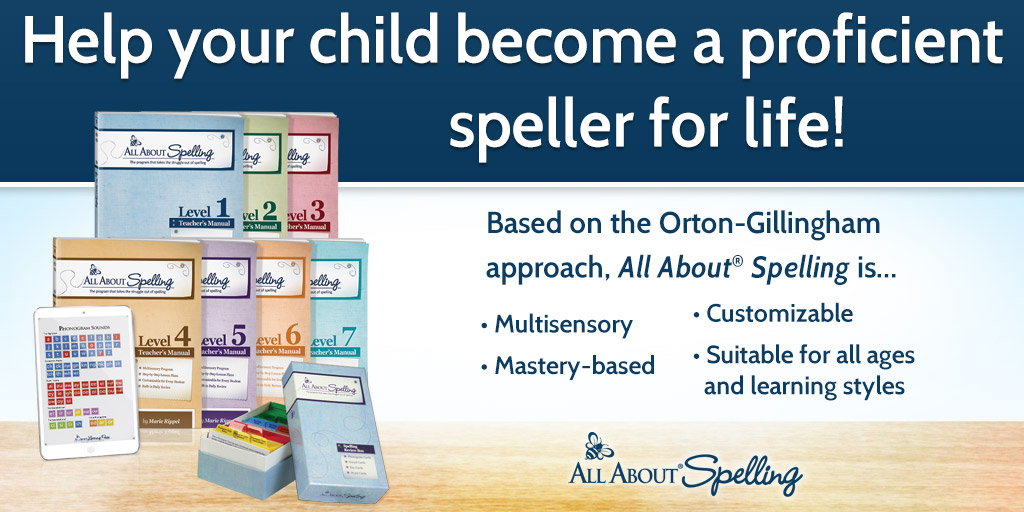 You may also enjoy: