Did you know that Black Friday through Cyber Monday is a fantastic time to snag some fabulous homeschool deals?
Black Friday and Cyber Monday Homeschool Deals
This post may contain affiliate links. Please read my disclosure statement for more information. *All of these deals are time sensitive and many are only available for one day. I have noted the dates for each deal…and check back for new sales!
As an introvert, I much prefer shopping online to shopping in stores.
It's so peopley out there, folks!
So, for my fellow introverted homeschool moms, I thought I would share some great Black Friday and Cyber Monday deals coming your way.
Black Friday and Cyber Monday Homeschool Deals
How about a festive holiday freebie from All About Learning?
What's in the Christmas Pack?
This Christmas-themed bundle features 35+ pages of reading and spelling review with activities like:
Rhyming Christmas Stockings: Pair up the rhyming words and hang them on the fireplace mantle!
Cookies for Santa: Make a plate of cookies for Santa while you review reading and spelling words!
Letters to Santa: Practice reading and spelling words and then slip your letter into the mailbox for Santa!
Christmas Tic-Tac-Toe: Play a game of Tic-Tac-Toe and decorate the Christmas tree–all at the same time!
Make and enjoy two Christmas ABC Snacks. Y Is for yum!
And much more!
All About Learning is also offering FREE SHIPPING on orders over $100 with code: FS100 from midnight to midnight (EST) on November 25th.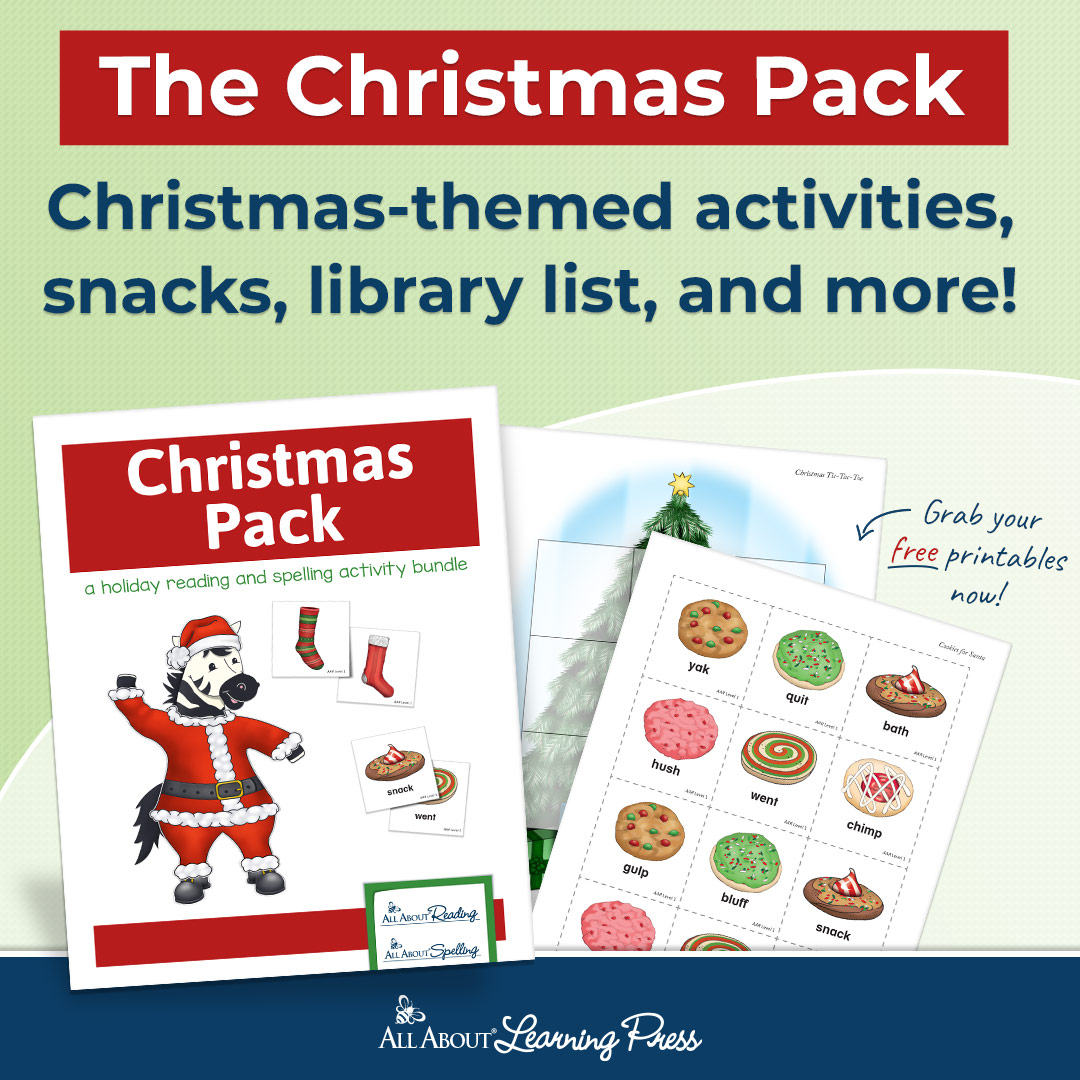 Black Friday and Cyber Monday Homeschool Deals
Literary Adventures for Kids Bookclub
Don't let the idea of teaching language arts intimidate you. Literary Adventures has done all the work for you!
Try out any book club, course, or series for 25% off until 11/29! Just use code TRIMTHETREE.
25% off ALL Book Clubs and Courses with code: TRIMTHETREE from November 25th-29th!

THiNK OUTSiDE BOXES
THiNK OUTSiDE BOXES are offering 50% OFF Your FIRST Intro Box with code OUTSIDE50  (11/15 – 12/15) PLUS FREE box on any of their multi-month subscriptions using code FIRSTFREEBOX (11/08 – 12/31)!
THiNK OUTSiDE BOXES is a year-long outdoor curriculum delivered monthly to your door! Each monthly kit covers a new theme from Fire building and First aid to outdoor Shelters and Sting Removal. This subscription builds on itself each month so that your child is constructing their survival pack as the months go by.
You can read more about how we love and use these boxes with our post:
Learning Outdoor Adventure Skills with THiNK OUTSiDE BOXES
Universal Yums
We signed up for the monthly Universal Yums subscription box last year! Each month we receive snacks from a different country plus recipes, and trivia. Such a fun way to explore geography!
Green Kid Crafts
50% Off the First Box of Any New Subscription from 11/21-12/10 with code JOLLY50
Black Friday and Cyber Monday Homeschool Deals
Our Journey Westward
Through Nov. 25th through Cyber Monday, Our Journey Westward's entire store will be marked down 25% OFF with code: THANKFUL
*Membership to No Sweat Nature Study LIVE is not included* 
The Waldock Way
The Waldock Way is offering 40% off ALL Waldock Way Unit Studies from Nov. 25th- Nov. 28th. These include Holiday Fun Around the World and Santa's Tasty Trip Around the World which would be perfect for Christmas schooling!
The 40% off sale also includes their Who Was buy five get one free special!
Beautiful Feet Books
Beautiful Feet Books is offering 10% off from Nov. 23rd- 29th via the promo code: THANKS22
UnderDog Games
Underdog Games are ALL ON SALE Nov. 25th- Nov. 28th! This includes Trekking the Parks, Trekking the World, Trekking Through History, and their newest game HerStory!
Black Friday and Cyber Monday Homeschool Deals
Favorite Gifts from Amazon
Check out my Amazon Storefront for our favorite homeschool resources from Amazon! Or check out all of Amazon's Black Friday sales!
*Here are a few more games to consider as they are favorites in our home*
ThinkFun Gravity Maze Marble Run Brain Game 
Photosynthesis Strategy Board Game
Harry Potter Hogwarts Battle Cooperative Deck Building Card Game
Taco Cat Goat Cheese Pizza Card Game
Hape Quadrilla Wooden Marble Run 
Check out more of our favorite games and homeschool resources in these posts:
Black Friday and Cyber Monday Homeschool Deals
How about some gift-worthy books!
Harry Potter and the Goblet of Fire: The Illustrated Edition
Harry Potter: The Illustrated Collection (Books 1-3 Boxed Set)
Percy Jackson and the Olympians The Lightning Thief Illustrated Edition
Wings of Fire Boxset, Books 1-5
Roald Dahl Magical Gift Set (4 Books)
The Complete Ramona Collection
Nancy Drew Mystery Stories Books 1-4 Hardcover
Hardy Boys Starter Hardcover Set – Books 1-5
The Boxcar Children Mysteries, Books 1-12
A Series of Unfortunate Events: The Complete Wreck
How to Train Your Dragon: The Complete Series: Paperback Gift Set
James Herriot's Treasury for Children: Warm and Joyful Tales by the Author of All Creatures Great and Small
Animalium: Welcome to the Museum
Botanicum: Welcome to the Museum
Animal: The Definitive Visual Guide
Books for Mom
The Little Book of Hygge: Danish Secrets to Happy Living
How Children Learn, 50th-anniversary edition
The Read-Aloud Family: Making Meaningful and Lasting Connections with Your Kids
Give Your Child the World: Raising Globally Minded Kids One Book at a Time
The Brave Learner: Finding Everyday Magic in Homeschool, Learning, and Life
Introverted Mom: Your Guide to More Calm, Less Guilt, and Quiet Joy
Permission Granted: Be Who You Were Made to Be and Let Go of the Rest
Here are more of our favorite books:
Here are more resources that caught my eye!
Sillbird STEM 12-in-1 Education Solar Robot Toys
Kano Harry Potter Coding Kit – Build a Wand. Learn To Code. Make Magic.
Magformers Basic Set (62-Pieces) Magnetic Building Blocks
Melissa & Doug Wooden Multi-Craft Weaving Loom
Ravensburger Bizarre Bookshop 2 1000 Piece Jigsaw Puzzle
Crayola Super Art Coloring Kit, Gift for Kids
Fire TV Stick streaming media player
Instant Pot DUO Plus 3 Qt 9-in-1 Multi-Use Programmable Pressure Cooker
Countdown to Christmas with awesome STEAM experiments from STEAM KIDS Christmas!
You may also want to check out these themed gift guides!
30+ Stocking Stuffer Game Ideas For Kids
30 Fun Nature Gift Ideas for Kids
Thoughtful Gifts for a Homeschool Mom
Gift Ideas for Kids who Love SCIENCE
20 Awesome Harry Potter Gift Ideas